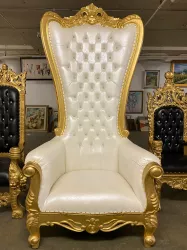 Check out our chair rentals in and around houston!
https://cometpartyrentals.com/rentals/chairs/
Throne chairs have been a symbol of royalty and luxury throughout history, and today, they're often used in various events such as weddings, baby showers, and birthdays. If you're planning to add a regal touch to your special occasion, you may want to consider throne chair rentals. Here's why –
1. Aesthetic Appeal Throne chairs come in different styles and designs that complement various themes and color schemes. With throne chair rentals, you get to choose from a variety of chairs that match your event's ambiance and style. Regardless of the type of chair you choose, it's guaranteed to make a statement and add an element of sophistication to your event.
2. Comfort Throne chairs are usually large and have plush padding, making them comfortable to sit on for long periods. This is especially important for events like weddings, where guests may spend a considerable amount of time sitting in chairs during ceremonies and receptions.
3. Perfect for Photo Ops Throne chairs make great props for photography sessions. Taking pictures on a throne chair gives you a regal aura, providing a perfect photo backdrop for your guests.
4. Customizable Throne chair rentals can be tailored to your specifications and preferences. From the color of the chair to the type of upholstery and other customizations, you can make your throne chair rental uniquely yours.
5. Cost-Effective Buying a throne chair outrightly can be quite expensive. Throne chair rentals are a great and cost-effective option. You can rent one or several chairs, depending on the number of guests attending your event, reducing costs and making it more accessible to have the luxury touch at your event.
In conclusion, throne chair rentals offer a great way to add a sense of opulence and grandeur to your special event. However, It's essential to find the right vendor to make your vision a reality. A reputable rental company should have a wide selection of quality chairs, affordable rates, and excellent customer service